This weekend, I was lucky enough to attend the Gentlemen of the Road stopover in Simcoe, Ontario. It's described as "a two day music festival that celebrates local people, food and culture, where everyone pitches in and everybody gets something back." I had so much fun that I forgot to schedule a few posts for the weekend, so I thought I'd make up for that by showing you guys my weekend in photos (and hope that it's enough to earn forgiveness for my negligence when it comes to posting).
This is what the tickets looked like! They were little passports, which you got to take around the fairgrounds and get stamped — it was quite a process and took both days, but it makes such a lovely keepsake!

My mom and I, after arriving in Simcoe for day one of GotR! Welcome Mumford, indeed!

The town was so cutely decorated for the stopover. There were handmade banners like this on almost every streetlamp, and there were moustaches and British flags everywhere!
The street fair was a lot of fun, too! The entire downtown area was closed off to make room for small stages, merchandise booths, booths manned by local businesses, and even some carnival rides. 

The fairgrounds looked lovely! There were flags everywhere, the stage was nicely set up, and it was so well organized. I can't imagine the amount of work that went into making it look like this, but it was certainly worth it.
I'm a huge indie/folk music fan, so I was incredibly excited about the music lineup. I got to see the following artists, all of whom were absolutely amazing:
Edward Sharpe and the Magnetic Zeros
Mumford and Sons
The Vaccines
Dan Mangan
The Walkmen
Bear's Den
Old Crow Medicine Show
Tim Chaisson
Phosphorescent
Hey Rosetta!
Stray Feathers
Justin Townes Earle
Willy Mason
Yacht Club DJs
There were way too many tall people standing in front of me to take many decent pictures of the bands at the fairgrounds, but here are the few that I did manage to take:
The boys in Mumford & Sons are such cuties, and they sounded SO good! They were so humble and gracious, and thanked the town of Simcoe for all of its support, which was a lovely touch.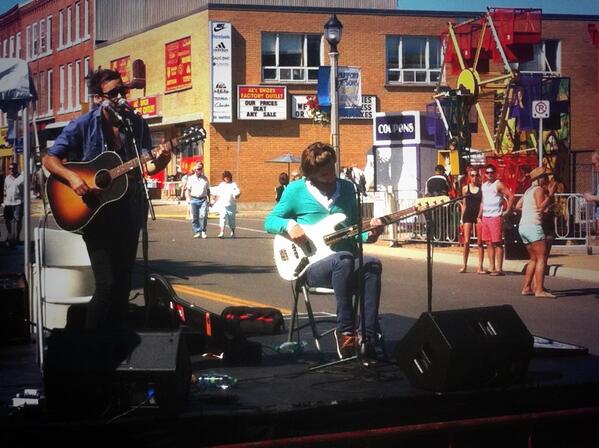 There was a smallish crowd to see Tim Chaisson play on the downtown stage, so I went over at the end of the show to introduce myself and tell him that his performance was really good. I was so excited about meeting him that I probably came across as awkward, but he still agreed to take a picture with me, so it's all good!
Don't we look cute?! : )
All in all, it was such a fun weekend. The weather was perfect, the bands were amazing, the town was so supportive and welcoming, and Marcus Mumford was absolutely adorable (as always). I can't wait for next year's tour!